Your local guide in Normandy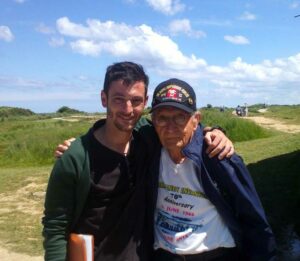 Local guide in Normandy for the past 10 years, I have been helping visitors from all over the world discover this area with passion and ease.
Born and raised in Normandy, I know my region inside out, from the most essential sites to the most confidential.
I am a certified national guide therefore I can guide you to all the sites in the area. I offer private tours in your vehicle for half and full days.
Depending on your wishes and interests, tours can be personalised and can last several days.
On the 6th of June 1944, the Normandy coastline witnessed the most ambitious operation in modern military history, Operation NEPTUNE, the Allied landings. Thousands of men under the command of General Eisenhower were going to try everything to save Europe from Nazi tyranny.
I will accompany you to the major sites of this landing to better understand and reflect.
It is impossible to visit Normandy without discovering Mont-Saint-Michel.
Over 1300 years old, this landmark was created after the vision of the Archangel Michael to the Bishop of Avranches Aubert in the 8th century. A true architectural feat, Mont-Saint-Michel is an open book on the history of Normandy.
I will be at your side throughout the visit, from the entrance to the village to the different rooms of the abbey. Together, we will appreciate the beauty and complexity of the wonder of the West.
The Pays d'Auge and its incomparable atmosphere, a Norman postcard.
Claude Monet and the Impressionists. Settled in Giverny at the end of the 19th century, Monet made the region shine with his works. Rouen, Étretat and the Normandy countryside were the artist's favourite subjects. A day to contemplate the sites that inspired him.
The Cotentin, its wild coast and its authentic fishing villages. I would be delighted to introduce you to the smallest port in France, Port Racine, the Pointe de la Hague or the towns of Saint-Vaast-La-Hougue and Barfleur.